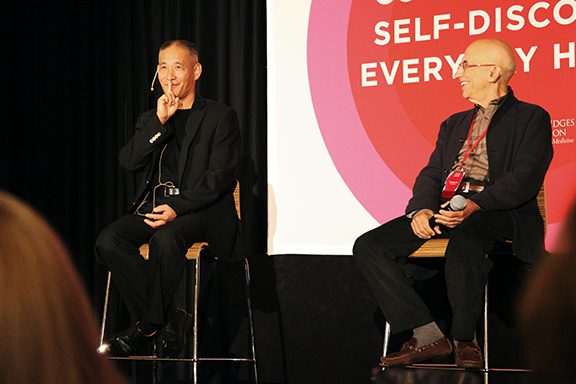 An Interview with Menas Kafatos and Grand Master Nan Lu
In this webinar, Grandmaster Lu interviews renowned quantum physicist and author Dr. Menas Kafatos, PhD. Their discussion follows the connection between energy, health, and modern physics. If, as Dr. Kafatos explains, everything is energy, and energy is infinite, why do we need to "conserve energy" in order to heal? Why do we need to access a higher quality of energy? Dr. Kafatos explores why we need both quality and quantity of energy to have a real healing benefit. Accessing a higher quality of energy is all about the innate understanding that our actions are going to produce results.
Building Bridges of Integration 2018

Would you like to learn more about healing from the quantum physics perspective? Join us at Building Bridges of Integration 2018. As a keynote speaker, Dr. Kafatos will be leading three engaging workshops. Descriptions of each workshop are listed below.
Workshop #1: Energy, the Quantum Mind, and Well-Being
The focus of this workshop is energy as the primary force in our lives. Energy is the foundation of our well-being and our health. Dr. Kafatos examines the quantum mind and its application in our lives as well as three fundamental Laws of the Universe. How can we realize our quantum mind and the benefits of these laws? Dr. Kafatos examines energy in the physical and mental realms from different perspectives. He explores Einstein's equation E = mc² as well as quantum effects that relate to healing and well-being.
Workshop #2: Bridging the Divisions that Seem to Separate What Cannot Be Separated
The primacy of Consciousness is presented from a scientist's perspective in an accessible way. Findings from modern science, quantum mechanics, and relativity reveal the quantum mind (Awareness) and limitless energy. These paradigm shifts all refer to Oneness. They reinforce the ancient teachings and practices of the Tao, Qigong, and Traditional Chinese Medicine. Health Consciousness, the cosmology of the human being, and the role of Awareness meld with modern science. Dr. Kafatos explains that these philosophical understandings are important for health and well-being. Eastern and Western medicine bridge the divisions that seem to separate what cannot be separated.
Workshop #3: Digesting Health Consciousness: Clinical Integration and Application.
After a weekend of digesting Health Consciousness, presenters will share how to integrate these teachings into clinical and personal practice. They will share experiences leading to their view of unity and a mutual vision of how humanity can reach its full potential. Guests will then have the opportunity to ask questions pertaining to both personal and professional integration of these concepts.
Join us at Building Bridges of Integration 2018.
Our annual Building Bridges of Integration for Traditional Chinese Medicine Conference will be held on October 11-14, 2018 in Reston, VA.
Health Consciousness: Giving Knowledge Life, is the common thread uniting all conference workshops. Now in its 15th year, the Building Bridges Conference provides a Five Element Consciousness Framework as the foundation for expanding and advancing a wellness-based approach to healing.