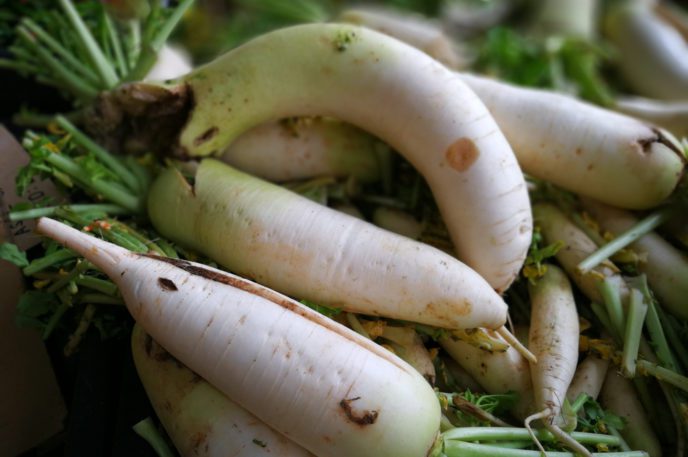 "When white radishes are in season, doctors should take a break." – Ancient Chinese proverb.
The unassuming daikon radish—along with its cousins, the black or red radish—has long been considered a superfood in many Asian cultures. It has an unremarkable ability to rebalance the digestive system, boost the immune system and gently cleanse the body. These properties are famously useful for addressing side effects of chemotherapy or radiation cancer treatment.
Other important benefits of radish include its ability to prevent cancer, reduce inflammation, strengthen the respiratory and immune system, facilitate weight loss, improve bowel function, reduce risk of heart disease, regulate blood pressure and hormones and strengthen bones. Did you know? Radish is rich in calcium.
This root vegetable has a unique ability to support the body as the seasons transition to cooler weather. Daikon radish is spicy and its color, white. Although its healing essence matches the energies of both Late Summer and Fall, its properties align with the energy of Autumn and its corresponding organs, the Lung and Large Intestine. These organs energetically support the "letting go" process of our body, mind, and spirit!
Daikon radish is available in most Asian markets and some supermarkets, as well. Choose one that is firm, heavy for its weight, and not too large. If you can't find daikon, choose red radish, which is available in most grocery stores.
Give this delicious recipe a try!
Cut a 4-inch-long section of daikon (or about 5-6 red radishes) into semi-circle slices or small cubes.
Heat a wok over medium-high heat. When it is hot, add oil and a dash of salt. Then quickly saute some diced garlic and chopped scallion whites. Add the radish and stir-fry for about 2-3 minutes, adding a little water if it begins to stick.
For flavor, add mushroom powder, to taste. Best served piping hot, it will still be crunchy when it's at the height of its flavor!
For more recipes, click here.